I have been a reading fiend. Well, when am I not? In any case, I read several great books over the last few weeks. I posted this picture, since it's apropos to the first book I'm reviewing.
The Lost Letter by Jillian Cantor
My first book by Jillian Cantor and definitely NOT my last.
I

am huge fan of WWII books and this was one of the best I've read this year. The story involves two timelines. Los Angeles, 1989 with Katie Nelson going through a divorce while taking care of her father, recently placed in a nursing home due to dementia. Katie's father was a stamp collector, always looking for a gem. Katie takes his collection to a stamp expert named Benjamin to see if there might be a gem in the collection. Benjamin finds something of interest and that takes Katie and Benjamin on a quest. The second timeline is Austria 1938 with Kristoff, a stamp engraving apprentice and the Faber family who are Jewish. Kristoff is learning the trade from Mr. Faber during the time of Hitler's invasion of Austria. I cannot tell you how many times I held my breath reading this story. There were so many wonderful surprises in the weaving of these two stories. I was left feeling completely satisfied at the end. Beautiful story and cover.
Everything We Left Behind by Kerry Lonsdale
This is the second part in what I understand will be a trilogy. I had read Everything We Left Behind awhile ago, but I very easily settled back into the story continuation of James/Carlos. The story alternates between then and now. Then, being when James was Carlos having suffered a fugue state and living in Oaxaca as a widowed painter raising 2 sons. Now, being California and Hawaii where Carlos is once again James, struggling to understand his identity. Most importantly, who can James trust? It seems his family has all betrayed him. James continues his relationship with Natalya and that might just be the grounding that he needs.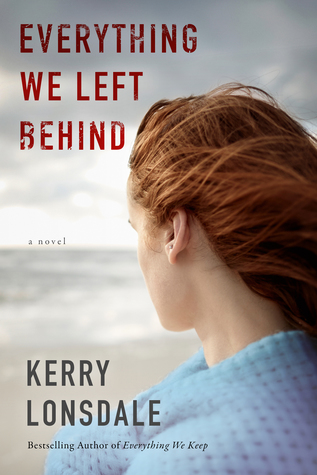 The Lying Game by Ruth Ware
My third book by Ruth Ware and I think I previously said she's our generation's Agatha Christie, which I still believe with this story. It's very much a who-done-it.. In this story we have 4 friends who went to a private girl's school in the remote beachside town of Salten. There they became fast friends, start The Lying Game, and became the "mean girls". After a scandal caused by The Lying Game, they were all expelled, very quietly and moved on to start their own adult lives. After 20 years they all receive a text, "I need you", and as it's a signal, they head back to Salten. There in Salten the secrets they tried so hard to keep seem to be coming in on the tides of the marsh. Can the four trust each other to keep to their story?