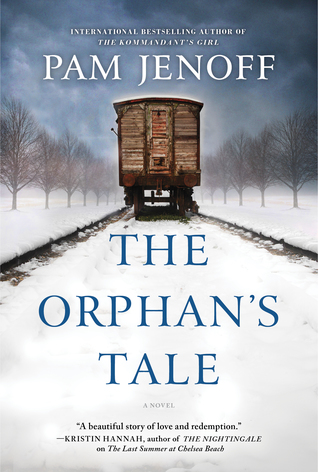 I was very happy to get to read my first Pam Jenoff book. Why had I never read anything by her before? I honestly don't know. She has written at least fourteen books, mainly historical fiction, and many focused on Eastern Europe and WWII. A genre that I enjoy and read a lot of. In any case I was christened as a Pam fan with The Orphan's Tale.
The story follows Noa, a young Dutch girl whose father kicks her out of the house after she becomes pregnant with a Nazi soldier's baby. She ends up in a home for unwed mothers and her baby is taken away. Noa then escapes and begins work cleaning the bathroom at a train station, eking out a living. The author conveys such a sense of the absolute bleakness that was prevalent in the time and place of the book.
One day while cleaning, Noa hears a faint cry from one of the box cars. She slides open the door to find the car filled with what she realizes are Jewish infants. They have been separated from their parents, most are dying and some already dead. Thinking of the baby that was wrenched from her after birth, she grabs an infant that is still alive and escapes into the snowy, wooded, night.
She finds refuge with a German circus that is made up of many misfits and people hiding in plain view from the Nazis. To earn her keep, Noa starts to train as an understudy for Astrid, a famous aerialist. In the beginning Astrid seems to dislike Noa and her baby, but as the two train together, they form a bond, and Noa begins to understand all that Astrid has lost. The two become like sisters with their shared losses and grief.
The author poignantly tells the story of Noa, the baby she names Theo, Astrid, the Jewish circus performer who was married to a Nazi soldier, and Herr Neuhoff the German circus manager who risks his livelihood to protect his performers and make sure the show goes on.
It's evident that Ms. Jenoff has done copious research and I learned from her website, that she worked for the foreign service and was assigned to the U.S. Consulate in Krakow, Poland. There she worked on matters such as the preservation of Auschwitz and securing restitution of Jewish property. She is now an attorney and teaches law at Rutgers. I understand that the story was based on several similar stories she came across in her years of research on the Holocaust. It is a unique and powerful story.
Thank you TLC Book Tours and author Pam Jenoff for the opportunity to read and review this for my blog.
http://tlcbooktours.com/
http://pamjenoff.com/
https://www.facebook.com/groups/899272610122986/
Purchase Links:
http://www.booksamillion.com/p/Orphans-Tale/Pam-Jenoff/9780778319818?id=6806214300029
https://www.amazon.com/dp/B01HB9Q7CW/ref=dp-kindle-redirect?_encoding=UTF8&btkr=1
http://www.barnesandnoble.com/w/the-orphans-tale-pam-jenoff/1123457576?ean=9780778319818